Filter by Category
Personal Enrichment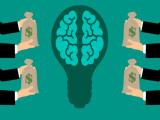 Fundraising Fundamentals (Remote Live)
with John Drew

May 8, 2021 at 9 am
NOW Remote – Learn this valuable skill in a highly interactive videoconferencing format from the comfort of your home. Non-profits can win reliable support through grants, but they also need to know the most important basics about other fundraising methods. "I can't teach everything I know about fundraising," says Dr. Drew, "but I can teach the six most important things I think will make the biggest possible difference for your success." In this workshop, an award-winning author, trainer, and consultant introduces simple proven techniques and strategies. Participants will learn how fundraising has evolved, how new software keeps track of donors and how to win individual gifts without the pressure of a face-to-face ask.
Instructor: John Drew
When: Saturday, May 8, 2021
Time: 9:00 a.m. - 4:00 p.m.
Course fee: $79 (Material fee: $36 - (pdf format, paid directly to the instructor)
Registration Deadline: April 30, 2021
Once the registration is received, the instructor will contact you with an orientation email confirming link access and instructions for the material fee payment.
Course Access Link: 
https://us02web.zoom.us/meeting/register/tZAqcO-sqjMjGNxNuMBssXHXUDwvgxIxWpw0
Contact Corporate & Community Services for registration information at (661) 722-6300 ext. 6584.
Upon request three days before the event, reasonable accommodation will be provided to facilitate the participation of covered individuals with disabilities. Call (661) 722-6360 (voice/relay).